Your application development team is currently confronting the urgency of digitalization because of the pandemic. At the same time, you are in a race against your competitors for the loyalty of your ever-demanding customers. When these challenges are magnified by limitations in movement and resources, you are faced with a growing backlog and lengthening lead times.
Frustrated business may make do with what they have (or don't have) to continue the business, leaving them vulnerable to competition. Or they take matters into their own hands, leaving their apps lacking in non-functional IT aspects such as security, performance, scalability, and integration. Either scenario is not ideal.
Digital initiatives should not be the work of IT or business alone. Gartner cites the importance of "fusion teams" — technology and functional leaders working together as an agile team. A multi-disciplinary team banks on both developer skills and business expertise to deliver an application. Now all you need is an application development platform that will enable this collaboration. 
Enabling cross-functional collaboration
Business-essential apps need to be built fast and right. When you rely on full-stack development to speed up the process, you need highly skilled developers. The learning curve is steep. The talent is hard to find. On top of this, such an approach may exclude subject matter experts from contributing to the creation, and we lose valuable user insight. 
The good news is that a low-code, multi-experience development platform like OutSystems enables a collaborative development environment that folds in automation, AI, and visual development — not just code, frameworks, and libraries. 
Check out these key capabilities we recommend to help you empower your multi-disciplinary teams.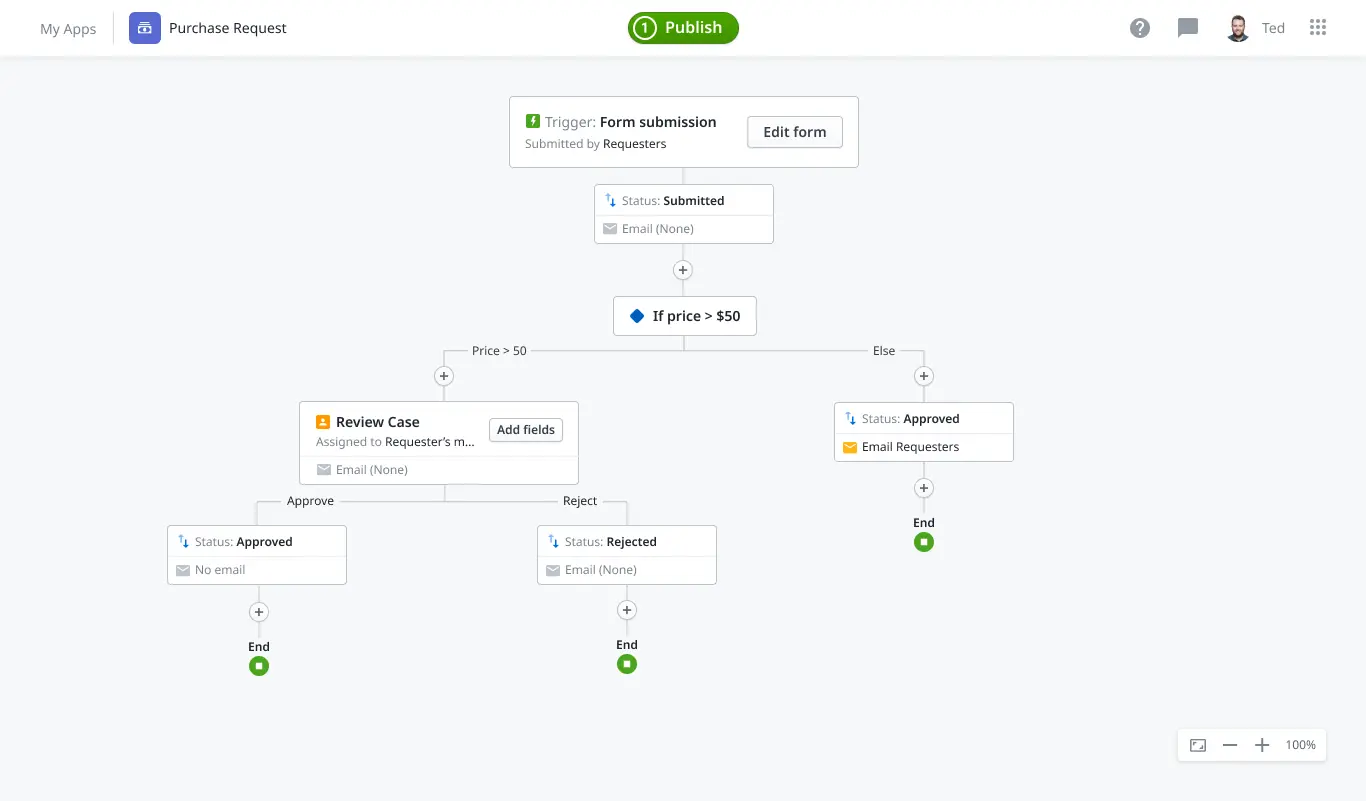 Visual solutions for business experts
Your HR manager may not know how to code, but they sure know how badly your organization team needs a new expense report app, so that the Sales team can easily file their reimbursements without taking time away from their more important work. They know what information is needed by Accounting, what documents are easily available to Sales. They understand the approval process and criteria. It's clear that HR needs to be front and center of this digitization initiative.
When you have a visual development app, your HR manager's lack of development experience is a non-issue. In the OutSystems Workflow Builder, for example, they can visually map simple to complex business processes into a workflow-based application for immediate and internal use.

Tools to expand developer capabilities
Now that business users can contribute as part of the app team, your developers have the bandwidth to step up their technology game. Multidimensional chatbots, language and sentiment analysis, and document processing are some powerful AI features that you can incorporate into your apps with the help of OutSystems. Developers can explore emerging tech, connectors, and custom AI models to inject more value into your app.

Integrated, full-stack application development platform
There are quite a few platforms supporting line-of-business development capabilities. However, you must also look into how an app initially developed by a functional expert can be technically proficient to be later on handled and expanded by the technical development team, without the need for re-coding or re-architecting. In OutSystems, apps created in the visual developer use standard architectures and frameworks in the backend. The output is technically proficient and will easily integrate into the full-stack development platform.

IT-governed development
While we encourage the business getting involved in app projects — or what we call citizen development — we do not want to end up with poorly designed, non-secure, and unsupportable apps. 
OutSystems embeds IT governance into the platform whether you are a business developer or a technical developer. IT managers can design governance models, retaining full control of IT assets. Role-based permissions keep users in their lanes — they are free to explore and develop without fear of causing technical accidents.
Idea to apps in minutes
Traditionally, ideas come from business; creation, from IT. In the gap between idea and creation, we slow down development. You may also be losing some features and functionalities in the process of translating an idea into an app. 
When you have a modern application development platform like OutSystems, business and tech come together, and the result is more than just the sum of its parts. You get more insights, create more value, and develop a deeper expertise that you can use to create future apps that are even more innovative than your last one or your competitor's. 
Explore how OutSystems can empower your teams
Interested in making OutSystems work for you? Stratpoint is a Certified Sales and Delivery Partner of OutSystems, and we'll be happy to get you started. Fill out the form below to book a demo.