Documents, sheets, powerpoints, and everything else essential for work can be found in Google Workspace. Even before the pandemic happened, we in Stratpoint have been using Google Workspace for almost everything. If you're wondering what "Google Workspace" is, it is a cloud computing productivity and collaboration tools, products, and services that Google markets.
With the current work-from-home setup, we are extra thankful to have Google Workspace as our primary use for work. Collaborating with our workmates is easy and stress-free. It's incredible how Google Workspace can give so many benefits and advantages to organizations like many of us who work from home.
Some of our used and favorite features and applications are:
Google Account
Having a Google Account is the first step to exploring and experiencing how great Google Workspace is. An account can give benefits to its user by its different features and applications.
Google Calendar
Setting a meeting with our workmates is no conflict as we see both their available and busy schedules. Google calendar is smoothly connected directly to our Gmail, which gives us reminders and alerts once a meeting has been scheduled, rescheduled, or even canceled.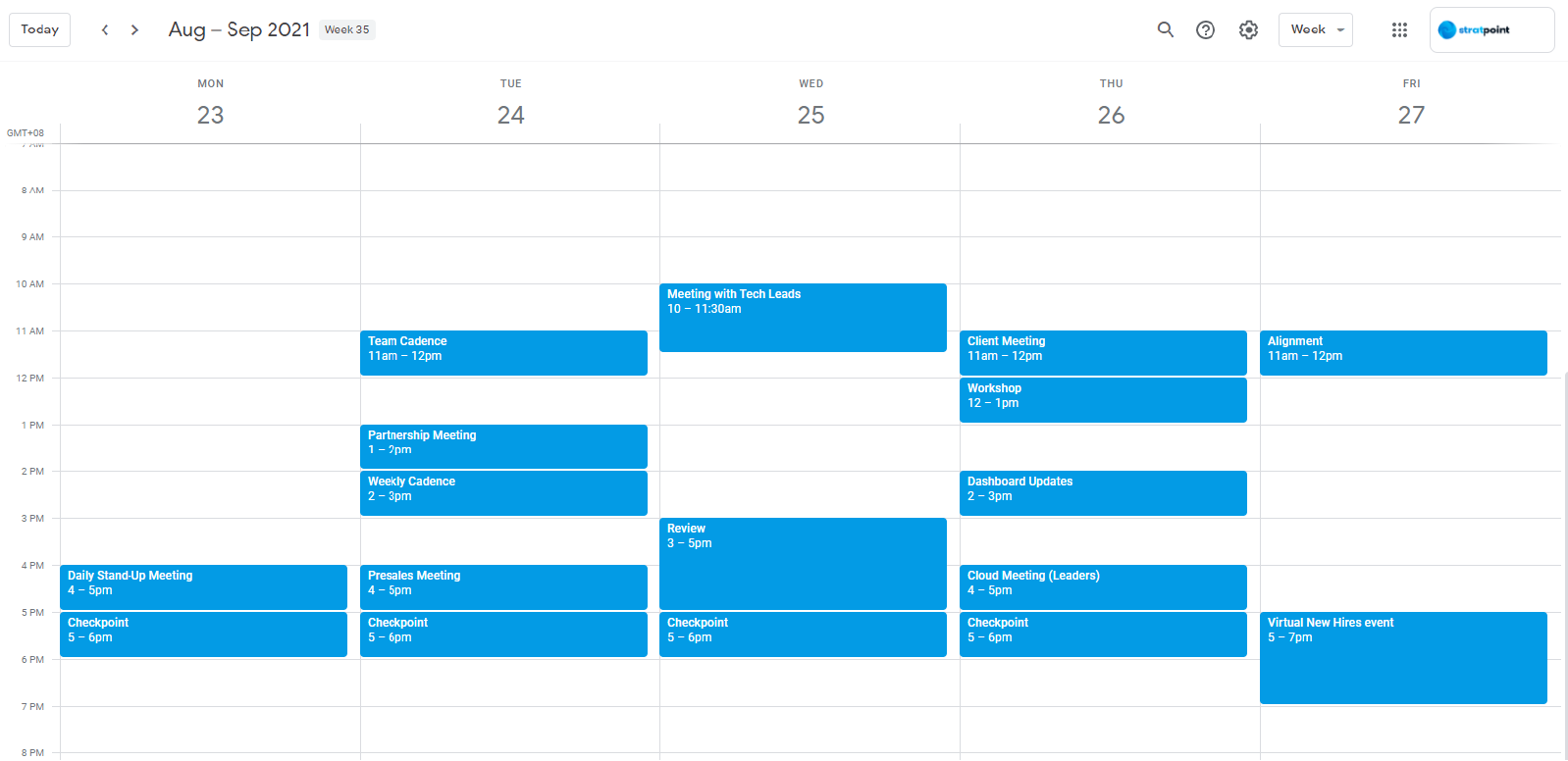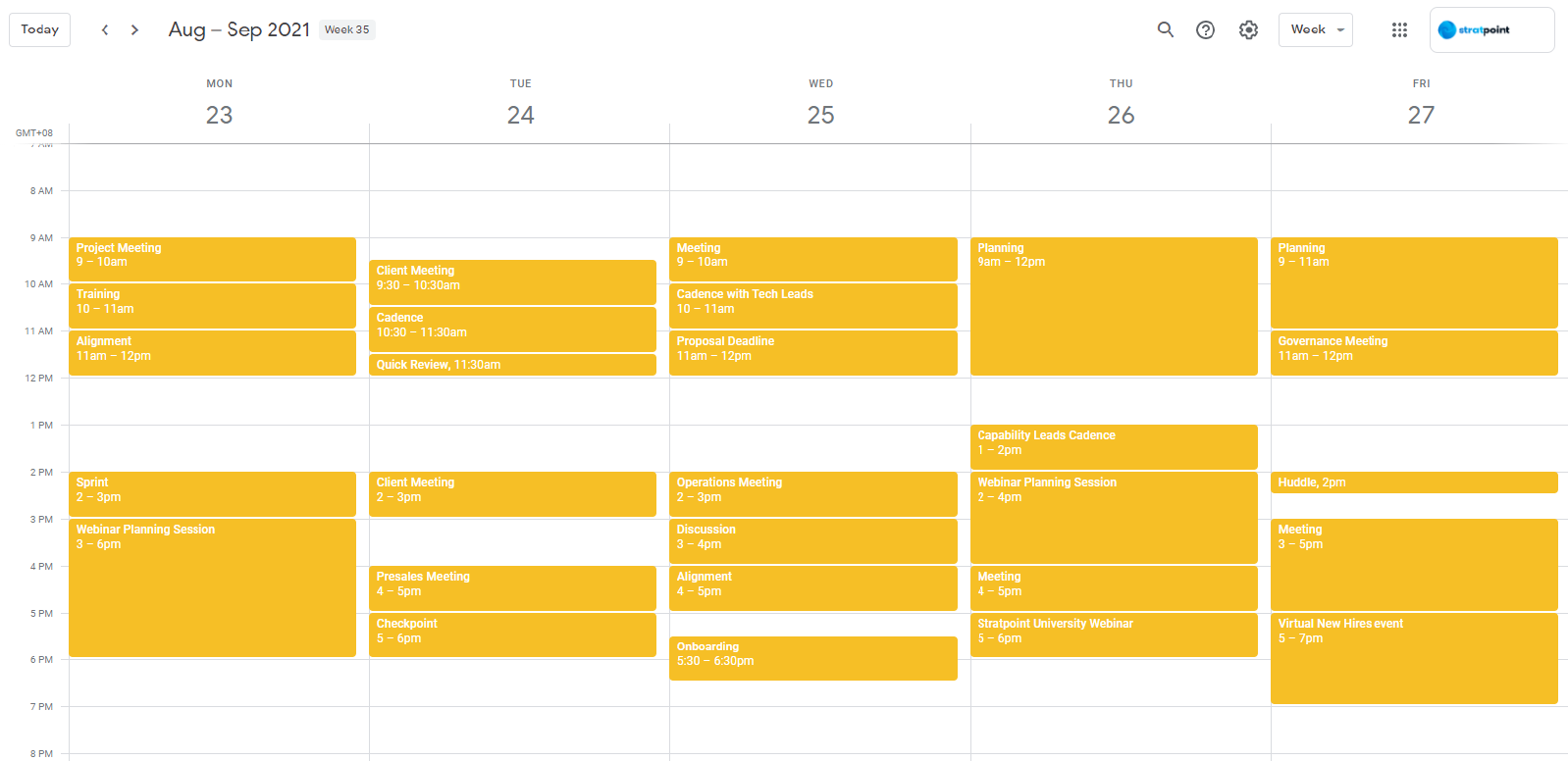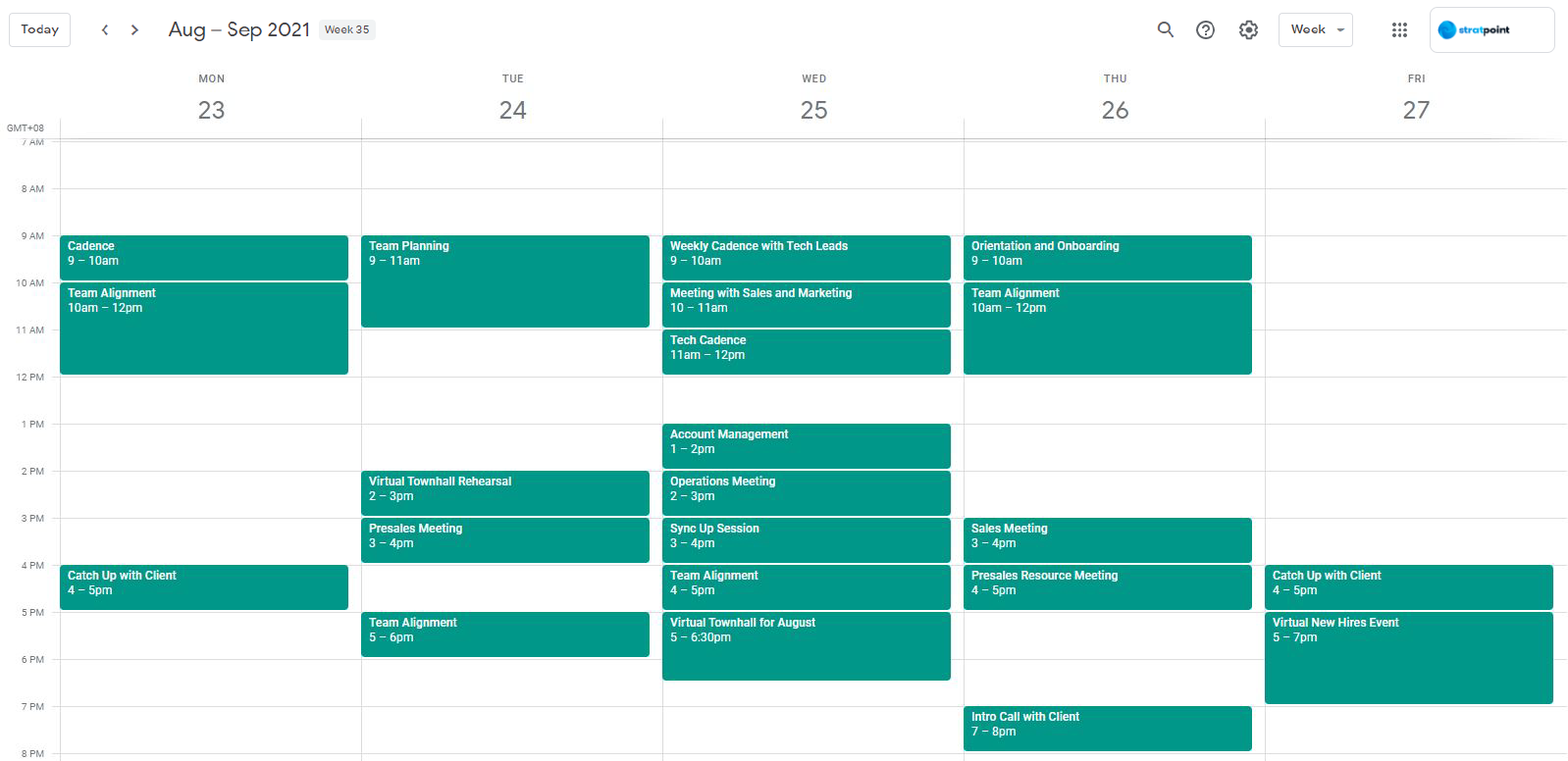 (Here are some samples of our Google Calendars)
Google Hangouts/Meet
Need a meeting? Google Workspace also has a feature called Google Meet. We, Stratizens, keep in touch with colleagues and clients by using Google Meet. What's nice also is that it works as an alternative to Zoom. What we like about Google Meet is we also have an option to pin the participant's screen when they are screen sharing!
Google Docs, Sheets, and Slides
These programs help us to collaborate in real-time! There's also an option to give access to certain people who can only edit, comment, or view. Guess what, there is also a built-in chat feature for these apps. All collaborators who are in the file can chat within the application.
Google Drive
Now that everything is done online, Google Drive for us is very handy to store our files and documents. All folders or assets can be easily shared with their corresponding link and permission settings. But wait, there's more! Google Workspace for business' biggest benefit is the unlimited data storage. Unlike free Gmail accounts, Google Workspace gives unlimited data for all assets such as documents, photos, emails, and other relevant files.
Google Workspace is truly amazing! These are not all the apps, because there are more to explore inside Google Workspace like Sites, Currents, Data Studio, and many more.
With the help of Google Workspace, Stratpoint continues to practice digital transformation within our organization. This does not only include delivering enterprise-grade solutions to clients but also the ability to work in new ways despite the hindrance of working from home.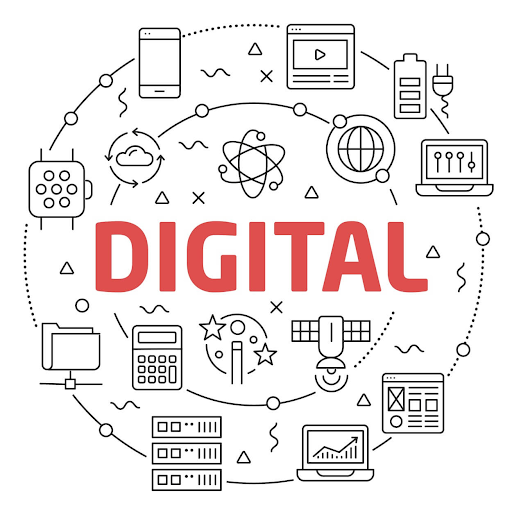 Intrigue to join Stratpoint and become one of the Stratizens? Feel free to check out our Careers website https://stratpoint.com/careers/
You may also check our Facebook page for upcoming events and helpful content! To know more about our culture, Instagram is the place to check 😉 https://bit.ly/LifeAtStratpoint